3 Misconceptions Of Effective Classroom Management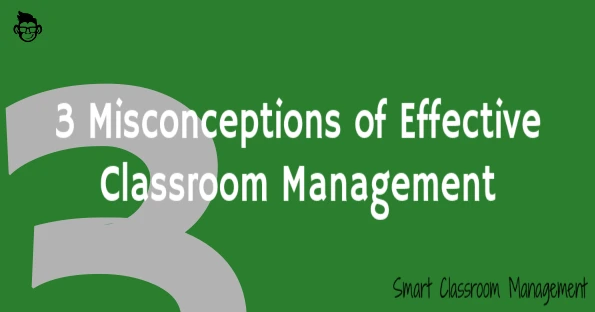 You can call them myths or fallacies or misconceptions.
But they are ensconced in the teaching psyche. They persist year after year despite our efforts here at SCM.
So with this article—and perhaps more to come—we'll set the record straight.
What follows are three misconceptions of effective classroom management we hope will finally disappear.
1. It's strict.
The only thing that needs to be strict is your adherence to your classroom management plan. As for where you place your boundaries, it's up to you.
SCM allows for flexibility in order to match your wishes for your class. Do you want your students to enter your room silently? No problem. Do you want to allow them to talk? Go for it.
The key is that you set your expectations—whatever they are—in detail and stone. Your classroom management plan is designed to protect learning, not to bring misery.
2. You're stern.
The idea that you have to be hard and severe while managing your classroom endures to this day. The truth is, a stern disposition is a waste of energy.
It also creates friction between you and your students and brings stress and tension into the classroom. All you need to do is follow through. Let your plan do the dirty work.
You can do this with a smile if you wish or in good humor. As long as you enforce your rules without showing anger, frustration, or vengeance, you're all good.
3. It takes long.
Although there are hundreds of strategies in our archive that can improve your classroom, you don't have to do them all and you don't have to teach them the first week.
Good classroom management happens fast if you follow the core principles of SCM. Your confidence in what you're doing is enough to communicate that your class is different.
When you set your behavior expectations in highly specific detail, whereby students feel the shock of excellence, they sit up straighter. They desire to be better.
They want to take the opportunity to turn over a new leaf and run with it as far as you'll take them.
Do & Be
You can and should expect impeccable behavior right now. There is no warming up. There is no room for doubt or excuses.
What happened the year before is irrelevant.
Your students will behave. They will succeed. They will have fun. They will learn. They will have the best school experience of their lives. That's just the way it's gonna be.
Everything you do and say must reflect your unshakable confidence in this belief.
This way, with your conviction etched in your face and oozing from your every pore, your students will shrug their shoulders and accept the inevitable. The pull of being part of something special and bigger than themselves is too powerful to resist.
PS – If you have questions, please leave them below and I'll put them on the list to cover in a future video.
If you haven't done so already, please join us. It's free! Click here and begin receiving classroom management articles like this one in your email box every week.