Professor Mark Nwagwu: For the Love of Science, Literary Works
[ad_1]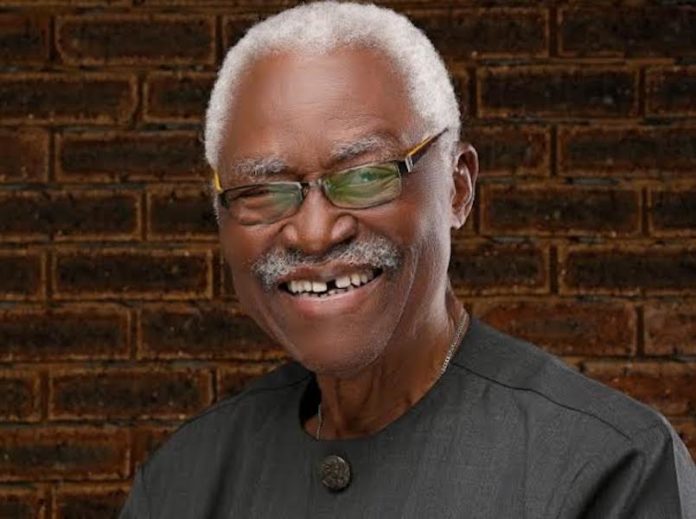 Born in Obetiti, Nguru in the eastern province of Nigeria on May 17, 1937, Professor Mark Nwagwu attended St. Patrick's College, Calabar from 1950 to 1956. In 1957, he went to study Zoology at the then University College, Ibadan. After that, he was awarded the Bachelor of Science degree from the University of London in 1961 and in 1965, received a Ph.D. from the University of Stockholm.
Nwagwu went to the University of Connecticut, USA, in 1966, where he accomplished spectacular research on myosin messenger RNA and muscle-protein synthesis on a post-doctoral fellowship. In 1969, he was appointed Assistant Professor of Cell and Molecular Biology at Brock University, Canada, and rose to Associate Professor in 1973. 
A scientist of note, Professor Nwagwu turned to literary works in retirement. An exciting writer of repute, he has published three novels, Forever Chimes in 2007, My Eyes Dance in 2010 and I Am Kagara in 2016. He has also published four works of poetry, all dedicated to his dear wife, Professor Helen Onyemazuwa Nwagwu: Helen Not-of-Troy in 2009, Cat Man Dew, in 2012, HelenaVenus in 2013, and Time Came Upon Me in 2019 written in her memory after her departure in 2018.
Prof. Nwagwu is a frequent contributor to several Nigerian newspapers on social and moral issues. In 2000, he established Youth and Enterprise Initiative, a non-governmental agency that promotes excellence in our youths. As he clocks 85 today, he reminisces about his life's journey in this interview with MARY NNAH
You are a scientist. Where did your love for literature come from?
In my school days at St. Patrick's College, Calabar (SPC), 1950-54, we were brought up on the required subjects for the Cambridge School Certificate: science, that is, physics, chemistry, biology, and health science; literature, comprising English language and English literature where we studied a book The Thirty-Nine Steps by John Buchan and poems by Matthew Arnold, John Keats, and Wordsworth; for plays we studied Shakespeare's Macbeth. We also studied history, mathematics, and geography.
 In the School Certificate Examination, I offered general science and Biology in the sciences and all the other subjects including English Language and English literature. In our days you had to pass the English Language to obtain a certificate.
 If you failed in the English Language you failed in the entire Cambridge School Certificate examination. Add to this, you must pass with Credit in English Language and Mathematics and in four other subjects to qualify for matriculation in the GCE (General Certificate of Examination of the University of London). This qualification was generally referred to as London Matriculation with which you can sit for the GCE Advanced level and gain entry into a university.
I passed the School Certificate Examination in Grade I with Credit in the eight subjects I sat for, namely, English Language, English Literature, Mathematics, History, Geography, General Science Biology, and Health Science.
I had the desire to continue my education and now had to make a choice; to study science or the arts. It was an easy decision because, in 1951, SPC started a course of studies in the sciences for the Cambridge Higher School Certificate in physics, chemistry, botany, and zoology. I do not now remember whether we also had Mathematics and Additional Mathematics, but I did not take much interest in it as I was poor in Mathematics. 
I was as good in the arts as in the sciences: in fact, I would say I was better in the arts and took a great interest in literature. SPC had a well-stocked library that was open to all students, especially to those students who had commenced their studies on the curriculum for the Cambridge School Certificate Examination. 
For us, in 1952, in our third year in school, we started to study the subjects according to this official curriculum. I am restless by nature and would often be found doing what I was not supposed to be doing. I took great interest in reading novels. For reasons I do not now recall, I got interested in stories about heroism and chivalry. 
Perhaps I saw my father in them, my passionate and unmatched hero. I took to novels by Sir Walter Scott and read three of his novels, Ivanhoe, Red Gauntlet, and Kenilworth. Then I wandered into Willkie Collins and read two of his novels, The Woman in White and The Moonstone. There were other novels, but I'll never forget a romantic novel by Richard Mason, The Wind Cannot Read.
I read several other novels of the romantic pedigree at SPC. I read Bertha Clay's Beyond Pardon, which my father bought me, and others by Marie Goretti such as A Romance of Two Worlds.
My main reading in poetry apart from the prescribed works for the examination were the works of William Wordsworth whose poems were also on our syllabus. But I went beyond the syllabus, so enchanted was I with his works. In particular, I remember his poem Intimations of Immortality. I did not read any other play at SPC apart from Shakespeare's Macbeth.
This was my first encounter with the world of literature in my formative years. Off and on in my later years, I read works that I can't now remember, but David Copperfield's Great Expectations stands out as a memorable novel that lives with me.
I buried myself in my science all my working life and gave all of me to science. I did, however, write articles for The Guardian beginning in 1997 when I turned 60 and my first article was, On Turning Sixty. Thereafter, for over ten years I wrote frequently in The Guardian, at least once a month. Someday I'll gather my articles and publish them. This you could say was my first outing in public writing.
In 2003 my dear wife, Helen, and I visited our daughter, Ugochi, and her family in Rockaway. New Jersey, USA. To my amazement, I found that our granddaughter, Akunne, was always reading a book wherever she was at home or in the car. I asked her mother and she said that Akunne read a book a day or at most every two days and that the worst you can do to her was to take her reading away from her. 
I was beside myself with joy and wondered what I could do for this special child of mine. Without much thought about it,  I promised her I would write her a novel. And I started writing sometime in 2004 and went on to 2007 when the novel I had promised her titled, Forever Chimes, was publicly presented on my seventieth birthday at the University of Ibadan. Chimes treated the lineage in the Akadike family up to the fourth generation.
 I wanted my granddaughter to have a firm grasp of the lives of the African family from the pre-colonial days to recent times in the twentieth century including lives in the USA where Akunne was at the time. This is a long and consuming story about the astounding love of a great-grandfather, Akadike, for his great-granddaughter, Chioma, and the prevailing difficulties in living both as an African imbued in deep moral African traditions and the contending variables of a materialistic American culture. 
Chioma tries to successfully navigate her way through this confusing landscape. Forever Chimes made the First Eleven on the NLNG shortlist for literature in 2008. Two other novels followed, My Eyes Dance (2010) and I Am Kagara (2016) all owed to Chioma's irresistible passion to live her life to the full among apparently confounding incongruities.
My poetic works all dedicated to my dear wife, Helen, Helen Not-of-Troy (2009), Cat Man Dew (2012), HelenaVenus (2013) were written while Helen lived and the fourth, Time Came Upon Me (2019), after her passage. As I was told, no other poet in Sub-Saharan Africa, and perhaps in our contemporary times, has accomplished this poetic feat.
What was growing up like in the South-east?
We lived at 158 Hundred-Foot Road, Aba, and my earliest recollections of my childhood come from my first day in primary school in 1942. The priest asked me my father's name and I said, Sir Papa. I called my father papa so that must be his name. My uncle, Dede Raymond, who took me to school then, gave me my father's name as Charles. So I was Mark Charles in primary school for a long time and I do not now remember when I became Mark Nwagwu. 
I attended Christ the King School, Aba, 1942-49. My life revolved around going to school and playing football after school. There was ample space between two adjoining houses and we played football in this space, the goalposts at the beginning and end of the passage. I often had homework to do but I paid more attention to football.  
I was not good at Arithmetic in school and was regularly punished by our teacher, Mr. Kuru, for failing my sums. The punishment got so bad I stopped attending school and would hide somewhere until school was over and then boldly walk home as if I had been in school all day. My uncle Dede Iwe found out and brought me back to my senses to return to school. He did not report me to my parents. In time I did worse: I left Christ the King School and enrolled myself in another school, Etikokwu Grammar School. My father found out and gave me the whipping of my life and I had to return to Christ the King.
I was a truant: I would often miss the evening catechism class and instead wander off to suya spots in the vicinity. With some coins taken from my other's bag, I indulged my taste for suya. Sometimes, my good friend, Christopher Onochie, would oblige me and buy me a stick or two. One day I invited one of my classmates, Okeke Okonkwo, the best boy in our class, and asked him to join me in a suya fiesta. He begged off saying he had many irons on the fire! This was my first time meeting this expression and of course, did not know what it meant.
 Later I found out he meant he had much work to do. And here I was, work or no work, boldly striding to my favourite suya spot. Sometimes I did not have the time to consume the suya and would strip the pieces into my pocket to be eaten later, which meant during my catechism class when the teacher wasn't watching.  Rats had their field day and would often eat up my pockets leaving gaping holes I would have to quickly patch up.   
On our street lived the inimitable Mrs. Margaret Ekpo and her dear husband, at 162-164 Hundred-Foot Road, a double plot with large grounds. Mrs. Ekpo ran a sewing institute and we were always eyeing the girls in her institute.
Christmas and New Year were celebrated jubilantly with masquerades marching up and down the roads, most notable of whom were Nwutam masquerade of Opobo, and Udunkulu of Abam. Udunkulu was not a masquerade but was led by a fierce war-like man garbed in war attire with swords and spears. He carried a basket containing human skulls, and now and then a cock would have its head pulled out and the blood spread on the ground ahead of Udunkulu. No one dared come near this war dancer and the hands worked strenuously to restrain his advances into the crowd. He was truly a spirit and was feared.
I always looked forward to the masquerades and spirits of Christmas quite apart from the feasting and rejoicing of the season. These were times when every child was certain to eat to their fill of rice and stew and meat, sometimes goat meat. My father always sacrificed a goat or two at Christmas, repeated on New Year.
NEPA had not come to Aba in my school days so we used lamps for light, often supported by wick lamps such as Aladdin (kerosene) and Tilley (petrol) which gave much more brilliant luminance.
We went to the toilet in buckets which were later emptied by workers named night-soil men, a most distasteful practice but which at the time was the only means of use for the general population.
You spent almost all of your adult life in Ibadan. What do you find so attractive that kept you in the city until retirement?
You must please first understand I was an undergraduate at UCI, 1957-1961. These years have not left me, instead, they come back over and over again leaving me in a state of dreaming heavens, the stuff of legends, the epic. When I wrote about Professor Ayo Banjo, former Vice-Chancellor of UI on his 80th birthday anniversary I went into my thoughts and extracted what seemed to be a gem of living heaven. 
I said, "The University of Ibadan campus provides the most elegant, beloved, and intriguing piece of prized property in Nigeria. Some of Nigeria's finest minds have lived, and still, live here. I would dare say that in so many interesting ways, Nigeria begins and ends where the University of Ibadan begins and ends. Whoever thinks of this country must perforce think of the University of Ibadan. 
This is not just a university: it is a cultural and intellectual masterpiece in our variegated firmament of knowledge and enterprise. No wonder, it is a special pride of Nigeria. And Ayo Banjo looms large in this pantheon." Here you have my feelings about the University of Ibadan and why I'm so engulfed in this masterpiece of thought and being.   
Let us talk about your late wife Helen, She seemed to be the orbit your life revolved around as an adult?
Helen is not someone I can describe in words: I don't have the words that capture the essence, the magic, of this marvelous creature of God. I wrote an article published in The Guardian when my good friend, Fr. James Chapuli, died in 2007, titled, Fr. James Chapuli: ordained into chastity. Fr. James often pursued me to write articles on human sexuality and I gladly accommodated him when he died I thought I should let the world know what chastity was all about. 
Below, I reproduce part of this article in so far as it tells the precise story of the transcendental love I have for Helen, which makes her so special to me. As I said earlier, I have four works of poetry for Helen all of them deep expressions of my undying love for my dear wife.
Did you believe you will be so in love with any woman before you met Helen?
The answer is a simple no. Helen far surpassed my dreams, to the greater glory of God.
There is nothing in this life, absolutely nothing that I desire as I desire Helen. With Helen, God is close to me and as I live in Helen, I live in my God.
[ad_2]

Source link