The Cool School – Cincinnati Magazine
[ad_1]

Lunchtime at Leaves of Learning looks different from a traditional elementary, middle, or high school. Elementary kids share space with teenagers on the verge of graduation, impromptu music sessions spark around the five pianos scattered through the school, and students arrive from classes they've chosen personally. It's a place where kids wonder whether they're on recess or still in class because learning has never been so fun before.
What began with 33 homeschool students in a greenhouse has grown into an ambitious nonprofit serving hundreds of full- and part-time students. Inspired by Montessori schools, the program's design emphasizes the child over the curriculum, and it always begins with a conversation. "Everybody who comes in has an individual interview—the kids and the parents—to find out what their situation and story is," says founder and co-director Diana Osborn. "You talk to real people here. We find that when we meet with kids, find out what their expectations are, what they want, what they need, we can help guide them toward a schedule in our program that will meet their needs. And that's worked really well for us."
Leaves of Learning grew organically from Osborn's own experiences as a student. "I grew up not enjoying school," she explains. "Loved to learn, loved to read, but hated school. [I] felt it was very restricted. I plodded along and did my best. When I had my own kids, I really didn't want to send them into the same system. I taught them that the world was full of all kinds of exciting things to learn. So, I enrolled them in a Montessori school."
Things went well until all three of Osborn's children reached school age. As the price of the Montessori school grew for her family, bills forced her back to work. She'd left her job to spend more time with her kids, and the dilemma forced her to reexamine her options. A friend recommended homeschooling. "I was kind of a reluctant homeschooler," she says. "We were having so much fun, just learning all kinds of things. I think when we started, they were 5, 7, and 9. But it was a little overwhelming."
She took her kids to visit their old Montessori school once, and while they missed their friends, they preferred the freedom and excitement of homeschooling. It gave Osborn an idea, one she wanted to share with other homeschool families stuck in the gaps between homeschooling's flexibility and its lack of socialization.
A meeting at the Symmes Township library with other homeschool families laid the groundwork. Three hired teachers would guide the children through consistent courses one day per week to balance the rest of the week's homeschool instruction. Where would they meet? One of the participating families had an in at a greenhouse in Loveland. "They gave us a space upstairs where they housed all their plants. If we cleared it all out over the summer, we could use the space for free," Osborn recalls. "It was a huge ordeal. But we started; it was a big success. The kids loved it and wanted more. We called it the Wednesday School. We gave the kids the option of coming up with a name. The kids came up with all these ideas, and the top vote-getter was Leaves of Learning because we were in a greenhouse. The second vote-getter was The Cool School, so we're very happy that Leaves of Learning was the winner." 
Since those early days, Leaves of Learning has held class in a church, an abandoned house they refurbished themselves, the Totes office building in Loveland, a VFW hall, and a barn. Their current location on Plainfield Road in Deer Park has played host for 12 years, but Osborn recalls a former student excitedly telling her, "Leaves of Learning isn't a building. It's about who we are."
---
Rather than presenting students with a standard curriculum to guide them through their school years, Leaves of Learning reverses the process. "We're very relaxed," Osborn says. "We see more anxious kids [now] than we've ever seen in 25 years, and we try to provide a space where they can come in, and feel at home, and feel they are OK—where we don't talk about their deficiencies and what they need to focus on. We talk about what they love to do, what they're good at, and we partner with them, building autonomy so they can have a voice in their education.
"We have one rule, and it's respect. Respect can pretty much cover everything. We find kids treated with respect give respect back." It flows in all directions, as well, not just from students to authority figures.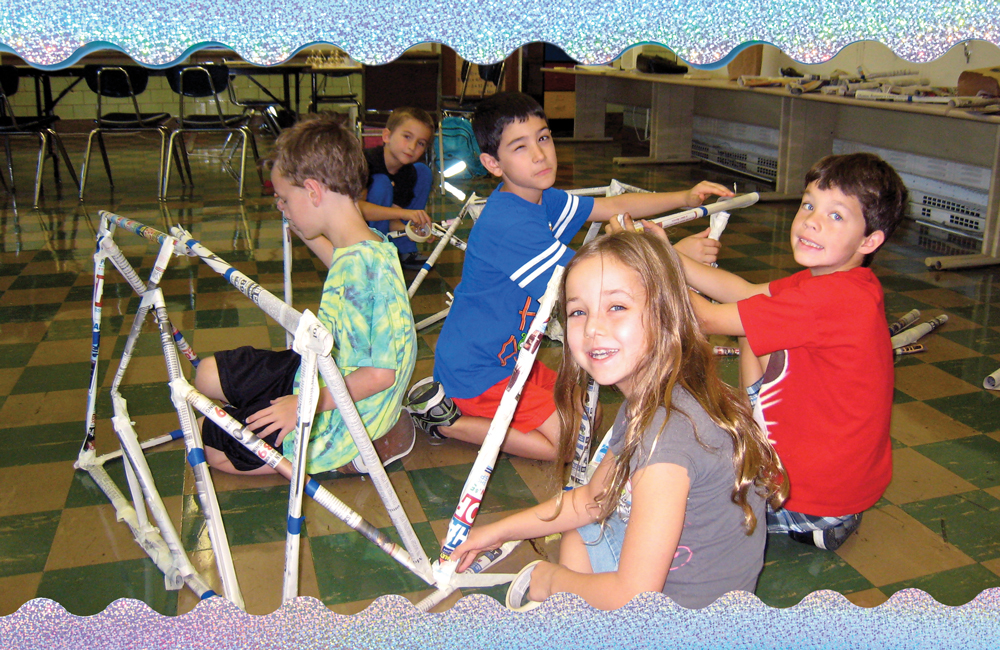 As the program expanded in numbers, it also expanded its options. Every year, families choose from hundreds of classes to build a personalized schedule that doesn't just prepare a student for graduation but plays to the student's strengths and interests. "We started with a few enrichment classes and now we run the full gamut," Osborn says. "A lot of kids use us as a full private school. They're technically a homeschooling family, but they get everything here. It's kind of like a college for kids. You can take what you want."
Art classes range from supervised independent study to sewing courses and ceramics. Some students choose basic English language arts, but others go for Homeric Epic Poetry instead. Registration brings a rush for students because they never know what's new. "We have to offer the basics, but we ask teachers every December, 'Dream: What are your passions? What would you really like to teach, like a new, eclectic class in your field?' And we get some great stuff," Osborn explains. "We have more ways to get your core requirements in that are outside the box."
Leaves of Learning takes a different approach to the social element of education as well. "The multi-age [aspect of] this program is very unique. You have kids intermingling at lunchtime of all different ages, and that really holds the older ones in check. You hear a couple teens starting to swear, and you say, 'Oh my goodness. Did you realize that you're a mentor and a role model for these younger kids? We understand you're experimenting with this, but this isn't the time or place.' And it's a much more real environment. It teaches the younger kids not to be afraid of the older kids."
Different ages don't just mingle at lunch. Classes accept at least two or three different grades at a time, giving advanced and slower learners the chance to find an appropriate and exciting challenge. Some courses accept any students 15+ or 13+. Students have decisions to make and a metaphorical field to frolic in rather than only a couple of divergent paths to their education.
"The kids love coming here," Osborn says, and she has the anecdotes to back up her claim. "I think it was our fifth year," she laughs. "It was looking like we were going to have to call a snow day, and I had a group of teens get together and call me on my cell phone, and say, 'Diana, we really don't want you to cancel school tomorrow, so we will come and shovel the driveway and walks because we don't want to have a snow day.' We did, indeed, end up having a snow day, but I always remember that as, wow, we've created something kind of good here."
Joy in learning, often left behind after elementary—or even preschool—thrives here. Teachers and staff treat high school in particular as more than a liminal space between childhood and college. "There's this big rush to rush children through the system. Let them go and enjoy their college experience, but this is high school, and it's different. And the social aspect of it is really important," Osborn says. "Our goal is to slow down, enjoy the process, explore a million cool things. Once they get on that college track, they're focused on that degree and career. We get some anxious kids from prestigious schools who [have] just shut down, and we bring them back to life by slowing things down."
The whole world slowed down in 2020. Everything that made Leaves of Learning wonderful for the students—varied social interactions, intimate class sizes, a physical place of escape—became a challenge. When the restrictions arrived, and the staff had to make tough safety decisions, they lost a wave of momentum.
"[The year of] the pandemic we were set to have our most stable year, financially, ever," Osborn says. "There were families who didn't feel comfortable, and we switched to virtual, and that isn't a good thing for preschoolers. So, there were a lot of kids who we refunded, and the next year, in the midst of the pandemic, when we started, our enrollment decreased by 33 percent."
Their preschool program, Little Sprouts Montessori, took the biggest hit. While virtual learning became a struggle across all grades, the smallest children had the least interest in or opportunity to interact through a screen.
"There's also been the polarizing political element of masking and no masking, and we've done our best to say that this isn't political, and this is what we need to do to stay in operation," Osborn adds. "We have some students who are immunocompromised, we have some teachers who are. We erred on the side of caution. I think the kids, get it. They understand this is what we had to do to meet in person, and they did not want to go remote ever again."
The step away from regular schooling, and perhaps the opportunity to glimpse what motivates their kids academically, brought many new parents' eyes to the program. "There isn't a typical student. We have lots of gifted kids. We have kids who struggle with various things. It's pretty much the full spectrum. One thing we do have is parents who are looking for something different for their kids and care about education," Osborn says. "We have a lot of people who come in here who have never thought about homeschooling, and they see us as a viable alternative for their kids coming full-time."
As families reexamine what a safe space for learning means to them, more and more seem to see the value of the slower path. Despite needing government loans to keep the nonprofit functioning during the worst of the pandemic, Leaves of Learning has broken out of its old shell with fresh growth. "We have improved and increased. This has been a really good year. We're back to our previous pre-pandemic levels, plus a growth of 10 percent," Osborn says. "We just had registration for next year, and we are 25 percent beyond that. We're nearing capacity. We don't want to have more than 350 s
tudents. Right now, we're at 275."
As the trees turn green, Leaves of Learning is poised to continue its relaxed, reevaluated version of excellence. Osborn, now in her 60s with all three children grown, is eyeing retirement. While she's confident in the program's future with her co-director, Christie Sawyer, she hopes the concept will grow in new directions. "I would love to spread this model of education. We have something that works," she explains. "I don't know if it's reproduceable, but that would be my hope." In a society forced to reconsider the value of time, joy, and respect, more places where students and teachers so enthusiastically celebrate learning could be a breath of fresh air after so long apart.


[ad_2]

Source link