'Translating' nanoparticles for biomedical ap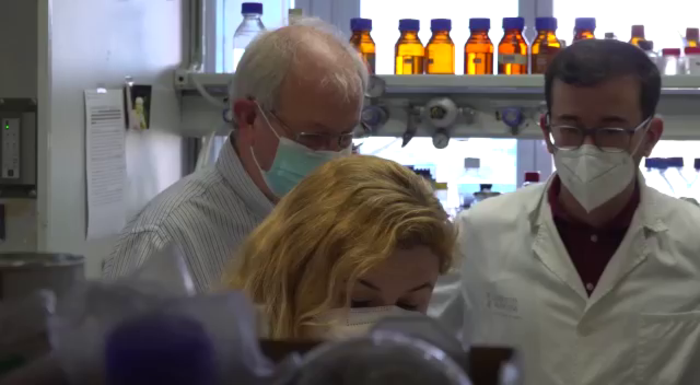 For the first time, a team from the Universitat Politècnica de València (UPV) and the Bioengineering, Biomaterials and Nanomedicine Networking Biomedical Research Centre (CIBER-BBN) has demonstrated the potential for using translating nanoparticles to facilitate communication between different types of cells and microorganisms. Their study could have applications in numerous fields, from medicine –for preventing and treating cancer– to agriculture – for the development of new pest protection strategies. Their findings have been published in the Nano Letters journal.
"We have shown that it is possible to establish communication between microorganisms from different kingdoms by using nanoparticles as translators. The nanoparticles process a message that is produced by the first type of cell (bacteria) and they convert it into a message that is understandable for the second type of cell (yeast) which, in turn, responds to it. This allows information to flow from the emitting cells (the bacteria) to the nanodevice, and from this to the receptor cells (yeast), thus enabling communication between the two microorganisms which would otherwise not interact. This is a breakthrough in the design of nanoscale communication systems and it paves the way for the development of future applications", remarked Ramón Martínez Máñez, a researcher at the UPV Institute for Molecular Recognition and Technological Development (IDM), and Scientific Director of the CIBER-BBN.
Among these future applications, the UPV – CIBER BBN team has highlighted the potential for regulating interactions between bacteria and human cells –for example, in order to prevent infections, kill bacteria, regulate our gut microbiome, and treat diseases such as cancer. "In the latter case, it would help the cells in our immune system to recognise cancer cells more effectively and regulate the interactions between them", observed Antoni Llopis, a CIBER-BBN researcher at the IDM.
It may also be useful for designing particles that make it possible for plants and fungi to communicate with one another, which could help us to develop new plant protection strategies. "We could establish communication between plant cells and other microorganisms in their environment, so that we can prevent pests or use them to improve plant yields", noted Ángela Morellá, also a researcher at the Institute for Molecular Recognition and Technological Development (IDM) and a co-author of the study.
In any event, the team from the UPV and the CIBER-BBN stresses that the results obtained so far are still at an early stage –"it is a proof of concept", they remark­–, even though they do open up new avenues with huge potential for the field of micro/nanotechnology and synthetic biology.
"The biggest challenge for future applications may be reading whether or not the communication between different cells has been successful. In our study, we used the expression of a fluorescent protein inthe receptor cells as the read-out, making it easier to monitor the process. The development of future applications will require more advanced methodologies, to allow us to monitor chemical communication processes in complex biological environments", concluded Ramón Martínez Máñez.
---
Method of Research
Observational study
Subject of Research
Not applicable
Article Title
Nanoprogrammed Cross-Kingdom Communication Between Living Microorganisms
Article Publication Date
16-Feb-2022
Disclaimer: AAAS and EurekAlert! are not responsible for the accuracy of news releases posted to EurekAlert! by contributing institutions or for the use of any information through the EurekAlert system.